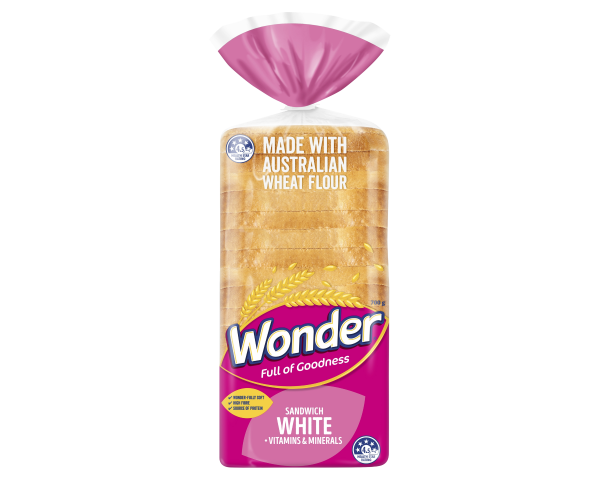 Wonder Sandwich White Vitamins and Minerals 700 g
Wonder High Fibre, Vitamins & Minerals White Sliced Bread Sandwich goes well with all your favourite sandwich fillings. A soure of fibre, vitamins, minerals, iron, protein and zinc, this bread also contains no artificial preservatives and no added sugar.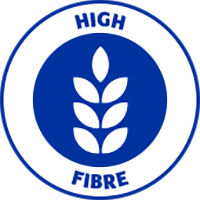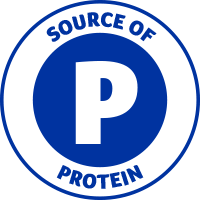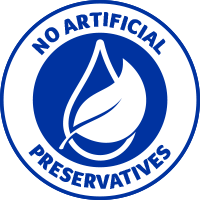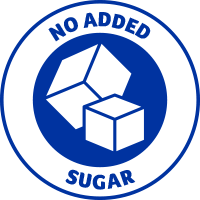 Find out more
Pack a yummy chicken sandwich with tomatoes and lettuce in your lunchbox, enjoy with a creamy tuna spread or get your classic peanut butter and jelly fix with Wonder bread.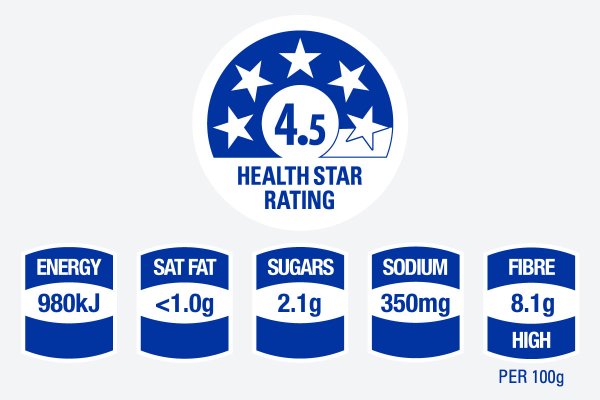 Health Star Rating: 4.5

Ingredients: Unbleached wheat flour, water, wheat fibre, yeast, modified tapioca starch (1413), wheat gluten, vinegar, canola oil, iodised salt, soy flour, acacia gum, cultured wheat flour, vegetable emulsifiers (481, 471, 472e), vitamins (niacin, vitamin E, thiamin, vitamin B6, folic acid), minerals (iron, zinc).

Contains gluten containing cereals and soy. May be present for sesame seeds.

Storage Instruction: Store in a cool dry place, out of direct sunlight.

Made in Australia from at least 85% Australian ingredients.

Serving Size: 74g

Suitable for: Vegetarian
Average Quantity per Serving
% Daily Intake (per serving)*
Average Quantity per 100g
Energy (kJ)
Average Quantity per Serving:
730kJ
% Daily Intake (per serving)*:
8%
Average Quantity per 100g:
980kJ
Protein
Average Quantity per Serving:
6.1g
% Daily Intake (per serving)*:
12%
Average Quantity per 100g:
8.3g
Fat, total
Average Quantity per Serving:
2g
% Daily Intake (per serving)*:
3%
Average Quantity per 100g:
2.7g
- saturated
Average Quantity per Serving:
<1g
% Daily Intake (per serving)*:
4%
Average Quantity per 100g:
<1g
Carbohydrate
Average Quantity per Serving:
29.5g
% Daily Intake (per serving)*:
10%
Average Quantity per 100g:
39.9g
- sugars
Average Quantity per Serving:
1.6g
% Daily Intake (per serving)*:
2%
Average Quantity per 100g:
2.1g
Fibre
Average Quantity per Serving:
6g
% Daily Intake (per serving)*:
20%
Average Quantity per 100g:
8.1g
Sodium
Average Quantity per Serving:
260mg
% Daily Intake (per serving)*:
11%
Average Quantity per 100g:
350mg
Thiamin (Vitamin B1)
Average Quantity per Serving:
0.8mg
% Daily Intake (per serving)*:
74%
Average Quantity per 100g:
1.1mg
Niacin (Vitamin B3)
Average Quantity per Serving:
3.7mg
% Daily Intake (per serving)*:
37%
Average Quantity per 100g:
5mg
Vitamin B6
Average Quantity per Serving:
0.6mg
% Daily Intake (per serving)*:
37%
Average Quantity per 100g:
0.8mg
Vitamin E
Average Quantity per Serving:
2.7mg
% Daily Intake (per serving)*:
27%
Average Quantity per 100g:
3.7mg
Iron
Average Quantity per Serving:
4.4mg
% Daily Intake (per serving)*:
37%
Average Quantity per 100g:
6mg
Zinc
Average Quantity per Serving:
1.6mg
% Daily Intake (per serving)*:
13%
Average Quantity per 100g:
2.2mg
* Percentage Daily Intakes are based on an average adult diet of 8700kJ. Your daily intakes may be higher or lower depending on your energy needs. < means less than